Edited: Recordings from this event and other events and conversations with Janet Treloar and Zac (Djwal Khul) are available from my shop here, including recordings of The Festival of the Heart.
Dear friends
I have talked a lot about newness recently – new energy, a new era, new creation. One of the new things for me recently was my very first whole day event which took place this week – Yay! A mini milestone for me – and I am thrilled to be able to share this with you in the form of the recordings that are now available.
In my introduction I said that the Earth has raised her own frequency to a level where, vibrationally speaking, the energies of 'the New Earth' are here. These energies are flowing freely through all of nature, all of the Earth – and we are able to connect with these energies freely for our own upliftment, inspiration, love, lightness and not least – newness! The Earth leads the way as always.
Yesterday on my dog walk I connected with some trees, walked among them, leaned against them and listened to them. I asked them if the trees of the Earth had a message for us humans at this time, perhaps about how we can connect with these new and lighter energies that the trees are such prominent carriers of, in order to inspire us on our own path of newness and becoming 'the New Me'. The answer was quick and simple; Connect with a tree that you like, face the tree and maybe even hug it if you like. Allow your heart to open up and ask for the New Earth vibration energy that is your own to flow into your heart. Allow your heart to be filled with this light new energy that belongs to 'the New You'. All you need to do is simply to allow, and then take this loving new energy with you in your heart with the intention that the inspiration and information it contains will come to you in your awareness in its own time.
This was such a simple and beautiful way of connecting with the wisdom of the trees and the newness that is flowing through all things on Earth now. I thought this was a good way to start this newsletter and I hope you may find inspiration, love and anything else you feel drawn to from the trees at this time. They are such loving beings.
Here is my dog connecting with the trees in his own way, receiving what is for him and just loving the beautiful flow of nature – very blissful.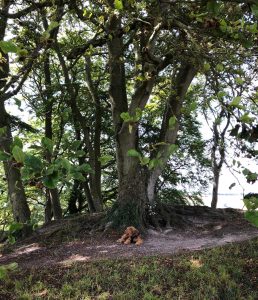 'A New Earth – A New Me' was the title of my event this week and I couldn't be happier with how so much amazing, valuable, inspirational, dynamic and 'on point' content was packed into a few hours, largely thanks to the immense knowledge and wisdom that both Janet and Zac brought to this day. I did my best too! 😁
It really felt perfect for this time, particularly as we are in the energy of the Virgo New Moon today, but also very much for the upcoming months (and years too)!
In addition to Zac's talk about our close relationship with the Earth and nature which was full of depth and richness in its wisdom and guidance, we were also blessed with a lot of time for Zac to answer questions which I think may resonate with many others too. This is often how Zac chooses to teach, by inviting people to ask questions which he knows are also relevant for others, and he took his time to explain much that I feel may be of general interest.
Janet gave us an absolute tour de force of fascinating insights and valuable advice on empowerment in many forms and from many sources – Inka energy management, Earth energies, the blue power ray and the Golden Grid among other things – all of which provides us with many different ways of empowering ourselves and gain new understanding about our energetic world and us as energetic beings.
I shared some of my ideas about what kind of future we as humanity together can create on Earth, along with some core values and principles for a New Earth society, hoping to inspire everyone to dream big and create big, stimulate new perceptions, different ways of seeing things, developing our 'ideal world' goals and then together co-creating them. I also talked about spiritual alchemy and 'the new kind of magic', and the amazing potential I believe this has for turbocharging both our individual evolution and the evolution of humanity en masse.
If you would like the recordings I am very happy to say these are only £15 for nearly 4 hours jam packed with Zac, Janet and myself. 
Please follow this PayPal link for payment or contact me for bank details for a BACS transfer.
If you use PayPal I would be grateful if you could choose 'Friends & Family' as a payment option since the PayPal protection doesn't apply to this kind of product / services, and PayPal takes an additional fee off the payment when 'Products / Services' are selected. Thank you!
Please let me know once you have paid and I will send you the link to download the recordings.
In order to respect the privacy of those present who asked questions during the recordings I have edited out their names, so you may notice slight gaps in a few places. There were also a few segments, including sounding and some more ZAC Q&A time, that were specific to the group on the day, and these recordings have not been included in this package for general sale either.
For full details of the description of this event please see
this post
.
With that I wish you all a wonderful, optimistic Virgo New Moon Supermoon full of new energy, new thoughts, new inspiration, love for the Earth and for yourself and for the promise of the future! Go and hug a tree, listen to it and open your heart to the love and lightness of the Earth that is there just for you!🧡