Dear friends
As we are beginning to wind down towards the shorter days of the year and the end of 2019 I cannot help but think what a year this has been, and indeed what a decade this has been. As I have mentioned before, I am sure I am not the only one thinking back to all that has happened both personally and globally since 2010. In these autumn months when the days are shorter perhaps we feel a sense of integrating and digesting some of our experiences from the last few months or years.
I always appreciate the inner calm and quiet offered by autumn and midwinter, perhaps because I grew up in Norway where the seasons are so distinctly different and more extreme than here in England. The feeling of everyone's rhythm slowing down after a bright and sunny summer, the warmth and cosiness of listening to storytelling around an open fire, the great Scandinavian tradition of lighting candles at pretty much every opportunity – all this is in my blood. These moments of stillness, darkness and calm are so valuable, and they help us to gather new strength, new inner resources for the next year and all the new opportunities it will bring.
And as we will be beginning a new decade which no doubt holds more potential and expansion than we can even begin to imagine, what better way to set out on this new adventure than with a celebration of 2020 and beyond with our wonderful Janet Treloar and Zac as they come back to Salisbury once again!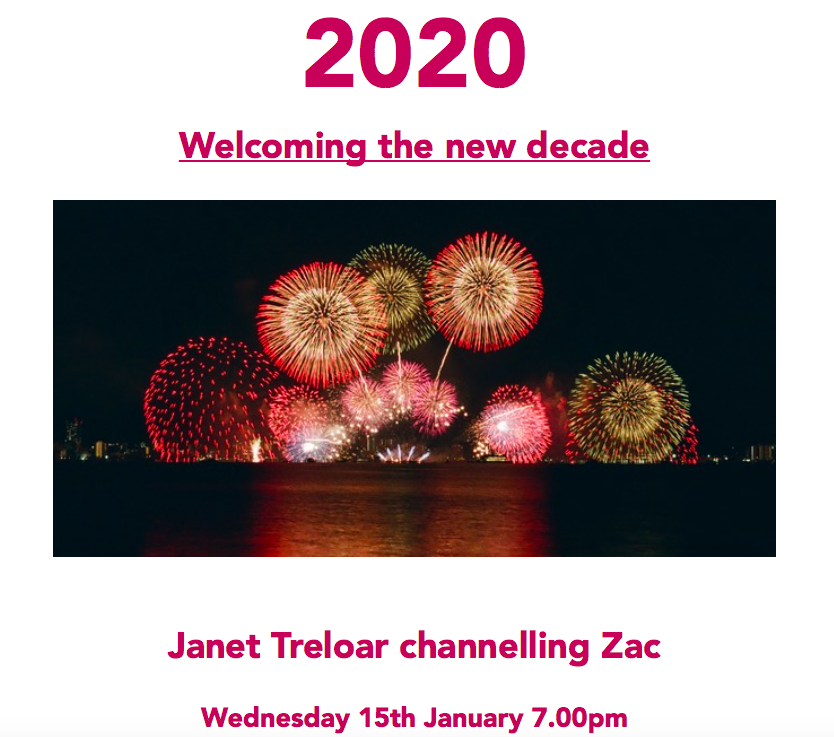 Many of you already know Zac, or in his more famous aspect, the ascended master Djwal Khul. Zac is a wonderful, warm and loving soul who speaks through Janet Treloar. Janet is a fantastic 'out-of-body' channeller which means that she takes her own energy out of her body while the energy of Zac comes in so that he can speak directly and freely to us. I think everyone who has met Zac will have felt touched by his love, wisdom and understanding of what it is like to be human, intrigued by the fascinating and often new information he shares, and encouraged by his ability to inspire us.
After many years of attending workshops and talks with Janet and Zac I know that there are always more questions for Zac than time allows for him to answer, so for this event I am delighted to be able to offer extra time for your questions to him!
Janet has very kindly agreed to give us a 'double whammy' of channelling Zac, so we will have plenty of time for him to freely share his wisdom, inspiration and any timely New Year's messages he may have up his sleeve for us all, but also plenty of time for him to answer your questions, whether you would like to ask him about your own life, national or global matters or any other questions you may have.
We will have the luxury of a total of 90 minutes with Zac, but we will also take a break to enjoy some delicious snacks and celebrate the beginning of the new decade, perhaps meet some new friends and catch up with old ones!
I hope to see you there and I look forward to sharing this special evening together with you!
For this event we will be back at lovely Sarum College which is in a central location in Salisbury.
⭐️Pre-booking is required for this event.⭐️
If you would like to join us please contact me for full details on booking and payment.
Once booked you will receive a confirmation email which you will be asked to show on arrival.
The price for this evening is £15.
Please note that I will not record the second half of this talk that includes your personal questions to Zac.
On a slightly different note, a few weeks ago I invited you to vote on topics for future talks, and if you haven't already please feel free to email me about this if you would like to have a say. You can find all the information here. I am very excited about some fantastic guest speakers coming next year in addition to the topics listed and I really look forward to inviting you to a whole range of fascinating events!
And finally, for those interested in the audio recording of my recent talk on spiritual narcissism this is now available. Please contact me if you would like this.
All that is left then is to wish you a wonderful week, a Happy Samhain, Halloween or All Saints' Eve, and I leave you with these channelled words of love and encouragement from those who speak through me.
Lights in tumultuous times
Fear not! You are going through tumultuous times on Earth, but fear not!
Much is happening and the world may seem dark, but you should see what we can see! We can see bright lights everywhere; lights that shine with love and compassion, with trust in humanity, lights of determination for freedom, for love, for equality, for joy, for peace.
We see these lights everywhere around the globe now, for these are the lights carried within human hearts. So many humans now carry this wish, this determination, not to despair but to change the world; to build the world that they want. We see your hearts and what is carried there, and we see this energy in so many people now – more than ever.
The news may report the horror and tragedy and trauma, but what they don't convey is the wave of compassion, love and wish for peace and harmony on Earth. This wave comes from all the thousands of hearts of humans who carry this within. That wave of energy is strong and powerful, and it surges forward now. Join in it!
Join the wave of love and compassion towards all creatures, towards humanity, towards yourself. Light up the Earth with your heart full of joy, happiness, love and harmony – even in the midst of death and violence. Be the counterbalance that pulls in the other direction; the direction of love, of harmony, of the ascenscion of the Earth and all humanity. Join in that flow and enjoy the ride.
Enjoy your time on Earth. There is so much beauty and love everywhere. Allow yourself to see it, to feel it, to be part of it.
Flow with love.