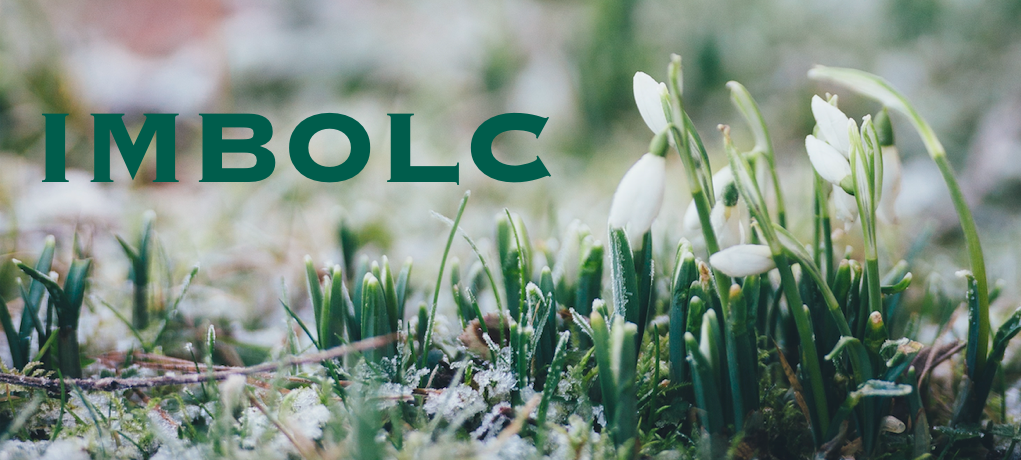 Dear friends
Next weekend marks the ancient celebration of the reawakening Earth after winter – the Gaelic Imbolc, or the Christianised version St Brigid's Day. Hand in hand with new life beginning to form in nature goes our own rebirth – a reawakening of our spirit, inspiration, creativity and fire energy. The wonderful Earth wisdom teacher Glennie Kindred writes about Imbolc:
"The days are beginning to lengthen. It is still cold but buds are forthcoming on the trees. Sap is beginning to rise and the bulbs are pushing through the Earth. Everywhere there are signs of the Earth stirring. Our acceptance of winter is giving way to an urge to move forwards into springtime energy. Now is the time to prepare inwardly for the changes that will come. Plant your ideas and leave them to germinate. Bring your visions and inner understanding out through poetry, song and art. […] The returning active phase of the solar year brings with it an opportunity to use our inner Fire, to unite our dynamic inner power with the fertile edge of the new year's cycle."
From 'Sacred Earth Celebrations', p.89
If you are near Salisbury on Saturday 1st February perhaps you would like to join me for a little walk and an informal Imbolc celebration in nature? With time for socialising and meeting old or new friends, we will mark the reawakening of Earth at a beautiful ancient site on the outskirts of Salisbury. Perhaps you would like to share a poem, bring a crystal, a twig of a native tree, a seasonal flower bud or another symbol of rebirth and reawakening. Most importantly though – just bring your beautiful self (and anyone else you think would enjoy it)!
If you would like to come along please let me know, and I'll send you the full details. We aim to start 10.30am and the whole thing might take an hour or 90 minutes. If you would like to bring your dog and you know he / she would feel relaxed with strangers and other dogs it would be lovely to have some of our friends of the animal kingdom with us.
RECORDING OF ZAC'S JANUARY 2020 MESSAGE 
If you or someone you know would like to hear the amazing wisdom our old friend Zac (the ascended master Djwal Khul) shared with us about the current energies unfolding on Earth and in the universe; how we can help ourselves by 'spiralling up' at the start of this new cycle; and the gentle but revolutionary unfolding of the Christ Heart energy through mass activations and mass awakenings at this time, the audio recording is available for only £7.
You are welcome to pay either via this  PayPal link or BACS (please contact me for details). Please also contact me to let me know you have paid, and so I know what email address to send the recording to.
For a more detailed description of the recording please see here, and you can read more about the Christ Heart energy, some of the back story, as well as my own experience of it, here.
UPCOMING EVENTS
Along with Imbolc February also marks the start of my regular events, and if you like to spend some time now and then re-attuning to your inner balance, enjoying deeply relaxing and soul soothing windows away from the outer world, or just re-energising on the happy vibes of coming together with other kind and loving souls you will probably love the regular guided meditation energy baths and live channelling gatherings. There will be something for everyone coming up in the next few months!

Guided meditation energy baths
An oasis of bliss and soothing relaxation in your daily life, you are surrounded by loving energies while you simply flow along with the sound of my voice guiding you on a mini adventure.
Live channelling, sounding and ancient soul languages
'Open mic' for the group of guides and higher beings who work through me to share freely with us whatever they want. These events tend to have a really beautiful, sacred atmosphere of spirit connecting with us at a deep level in a gentle way.
Talks
Regular talks on a wide range of subjects related to spirituality, personal growth and evolution, living in harmony with nature, inspiration for creating a better way of life on Earth and many other interesting topics.
Festival of the Heart
A day of celebration and enjoyment of our incredible, powerful, creative, transformational, beautiful and many-dimensional hearts!
Janet Treloar & Zac
Janet channelling Zac, 'a guide for the future' in his own words, and ascended master Djwal Khul in his more famous aspect. Zac teaches, inspires and guides us in his fun and gentle way, and answers our questions with wisdom and love.
More detail, dates and locations will be coming soon!
If you are interested in the guided meditation energy baths, live channelling events or talks it would be wonderful if you could let me know whether weekdays or weekends and daytime or evening would be preferable to you, and I will try to accommodate as many people as possible.
All that is left then is to wish you a wonderful and inspirational New Moon in Aquarius today, and I look forward to connecting with you again – in person or online – in the future!