Dear friends
December has always been one of my favourite months because it is full of joyous anticipation. I still feel the excitement I had as a child, looking forward to Christmas and to New Year's eve. The magical glow of Midwinter, the traditions of celebration, good company, giving and receiving presents and enjoying delicious food, all made such a deep impression on me in my early years that I think I will carry that magic with me forever. And the Advent time leading up to it – looking forward to it – was just as important to me as the festivities themselves.
I have always believed that when we look forward to something, when we have positive anticipation (even if we are not quite sure what the future will bring) we are actually bringing the positivity and joy of the future into the present and we get to enjoy it for a much longer time. We claim the joy of anticipation, we claim the lightness of hope, and we claim the enjoyment of each moment. No matter what the future ends up looking like no one can take away from us the positive experience we already had while looking forward to it!
(..and I think it also has the added beneficial side effect of helping to create the future we anticipate😉)
This December not only am I looking forward to Christmas and to New Year's eve, but I am also looking forward to the big 2020!!! Can you tell? If you have received my newsletters recently you may have noticed that I am quite excited about us entering A NEW DECADE!! Hooray!!
In the middle of what is no doubt a very challenging and turbulent time for us Earthlings I feel there is such great potential for us to use our power and create positive change on every level, and in many different ways. While many of us have experienced some very difficult years, and the planet on the whole is under huge strain, I believe that we – more than ever – have such power to influence, to shape the future, both on an individual level and globally. And I know we have so much help from the divine, from our guides and helpers, from the universe. Together we really can turbocharge dynamics of change in the world.
And on that note, who better to spend a January evening with than our ever optimistic, inspiring, enthusiastic and empowering friend Zac! Straight from the highest realms of divine wisdom…….to Salisbury!
If you are planning to join us for this celebration of the new decade – with plenty of extra time for Zac to answer your questions (and a bit of socialising too) – now is a good time to book your space!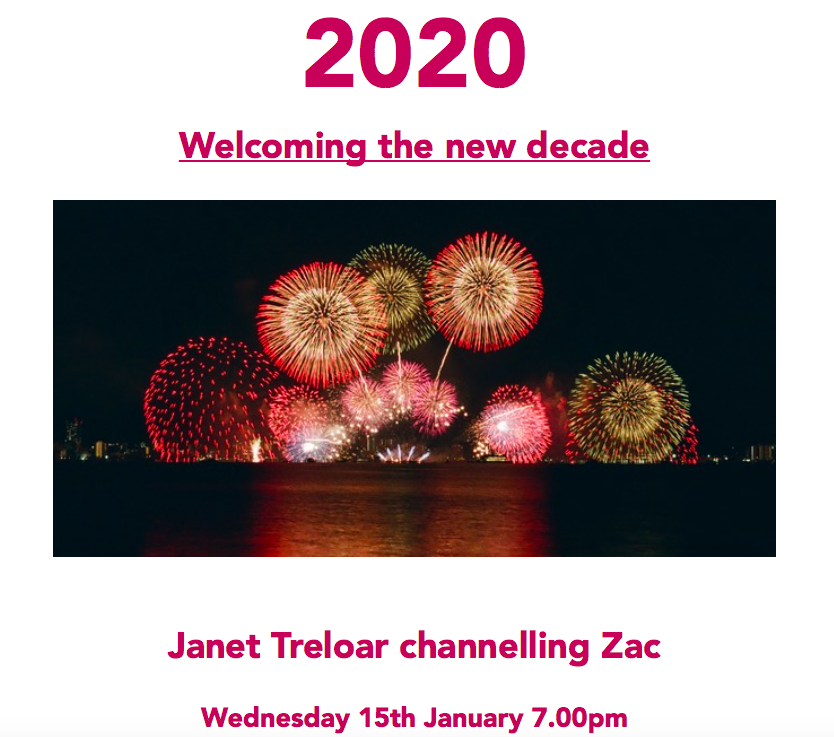 Many of you already know Zac, or in his more famous aspect, the ascended master Djwal Khul. Zac is a wonderful, warm and loving soul who speaks through Janet Treloar. Janet is a fantastic 'out-of-body' channeller which means that she takes her own energy out of her body while the energy of Zac comes in so that he can speak directly and freely to us. I think everyone who has met Zac will have felt touched by his love, wisdom and understanding of what it is like to be human, intrigued by the fascinating and often new information he shares, and encouraged by his ability to inspire us.
After many years of attending workshops and talks with Janet and Zac I know that there are always more questions for Zac than time allows for him to answer, so for this event I am delighted to be able to offer extra time for your questions to him! 
Janet has very kindly agreed to give us  a 'double whammy' of channelling Zac, so we will have plenty of time for him to freely share his wisdom, inspiration and any timely New Year's messages he may have up his sleeve for us all, but also plenty of time for him to answer your questions, whether you would like to ask him about your own life, national or global matters or any other questions you may have.
We will have the luxury of a total of 90 minutes with Zac, but we will also take a break to enjoy some delicious snacks and celebrate the beginning of the new decade, perhaps meet some new friends and catch up with old ones!
I hope to see you there and I look forward to sharing this special evening together with you!
For this event we will be back at lovely Sarum College which is in a central location in Salisbury.
⭐️Pre-booking is required for this event.⭐️
If you would like to join us please contact me for full details on booking and payment.
Once booked you will receive a confirmation email which you will be asked to show on arrival.
The price for this evening is £15.
Please note that I will not record the part of this talk that includes your personal questions to Zac.
If you would like to tell your friends about this please feel free to quickly and easily share this post using the fab sharing buttons at the bottom of the page.
And finally, as we have another two eclipses coming up in the next few weeks you may find the blog post below interesting. Here I share some of my channelling relating to this current Cancer – Capricorn eclipse cycle (and the previous Leo – Aquarius cycle) and how the themes of masculine – feminine, parent – child, stereotypes, role models, identity, relationships, generational patterns and much more come into it. I also focus on the current time of change, evolution, freedom and our opportunity to create A New Earth!
http://theresadahl.com/dancing-with-the-cosmos-evolving-into-balance/
And if you have experienced big changes in your life, perhaps in relationships, friendships, the foundations of your life, or loss of loved ones – or even if you simply feel a little bit in free fall, unsure of the future and how to create it, you may find these two blog posts helpful and interesting.
http://theresadahl.com/end-of-old-cycles/
http://theresadahl.com/new-era/
And with that I wish you a happy Advent season, happy anticipation and a very happy creation of a bright, liberated and expansive future!