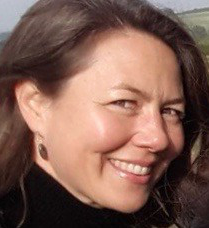 I have always had one foot in the scientific, academic world and another in the 'alternative', spiritual, mysterious, magical. It suited me to grow up in a very academic yet open-minded family, because I was always a curious, philosophical child who loved books and had an insatiable appetite for learning! At the same time I was also an unusual child (I now realise) because I was born with a natural openness to other dimensions, to my spirit guides and to my soul's universal connectedness and wisdom. I was quite happy in my own company because I never felt I was alone. I always sensed someone else there, a loving presence of a group of beings who I belonged to, and we usually had conversations going about the big questions of life, death and the universe. I was often given quite clear answers to my questions, or just a feeling of 'inner knowing'. However, being a human on Earth, of course I had to go through the usual human experience of learning human ways, human perspective, human knowledge, adapting to human rules and expectations. As so many children experience, my inner wisdom was 'unlearnt' as I grew up and had to fit into an education system, a different way of thinking and a different way of approaching the world. I never really fitted into the conventional way of life, but I tried – at least for a while.
Even at a very young age I knew I had been here before, many times. I had what I would describe as emotional memories from past lives, and I longed to go back to them. They were very happy memories. Born in the 1970s, I was horrified at what humanity had done to the Earth since my last lifetime. The pollution, the destruction of nature, the soul-destroyingly ugly (in my view) post-war buildings, and the noisy machines that were everywhere – on the roads, in the air, on the seas. I felt great sadness and disbelief that humanity could have such a short-sighted and destructive relationship with their beautiful planet.
I now know much more about the mission I signed up to for this lifetime, and I know that my purpose – among other things – is to contribute to the evolution of humanity into 'The New Earth'; a higher way of being, a higher consciousness, a wiser approach to life on Earth, a peaceful, sustainable existence on our planet where we live in harmony with each other, with nature and all of Earth's creatures. I also know that each and every one of us has the potential to contribute to this beautiful co-creation, the next step in human evolution, and for each and every one of us there is a universal truth: If you want to heal the world you must start by healing yourself – be the change you want to see.
This is why I have been through all the usual human experiences as part of my path in this life; the challenges, the wounds, the inspirations, the travelling, the formal education, the informal education from a great variety of experience in many places and situations, the many people I have known over the years, the different places I have lived, the mysteries of life pondered and (eventually) understood. I had to have much and varied life experience, knowledge and connections in order to get to where I am now, to be able to do the work I do and truly live the life I want – fully aligned with my soul, my heart and my truth.
Now that I am helping others on their own journeys, perhaps my greatest asset is my internal library of human experience, the wisdom gained from living through it and embodying it. Your life experiences are also mine, I understand what you mean, I connect with it and see it clearly.
My path here involved the necessary processes of liberation, transformation and evolution, through healing, insights, understanding and self-development. Some years ago I reconnected with the openness I came in with as a child. I learnt that I am a natural 'clear channel' (I had no idea what channelling was then), and I started out on a journey of remembering my true self, my soul self, my past lives, and re-establishing the free flow of multidimensional connectedness that I was born with and enjoyed as a child. In addition to going inwards on my own I have benefited enormously from the work and training I have done with the wonderful Janet Treloar, who has extensive qualifications, vast knowledge and experience of all things spiritual as well as great wisdom, kindness and patience. What I have learnt from Janet laid the foundations for all my energy work and my spiritual development. Janet is herself one of the absolute top channellers in the country (I'd say the world, actually), and the ascended master Djwal Khul ('The Tibetan') speaks through her. He is also one of my teachers, and my many conversations with him on my own as well as the courses where he works with participants directly have allowed me to learn from his unlimited wisdom, knowledge and grace, and this in turn has contributed hugely to my spiritual 'education', my progress and my current work. Through my own life experience, my reconnection to my soul self and my collaboration with the higher beings in spirit I have learnt how to thrive on Earth, enjoy life fully in the midst of the chaos, destruction and challenges humanity is currently going through, and how to be able to contribute constructively to our shared co-creation of the new world we truly wish to live in. It is my hope that I may in turn help others on a similar path and support them in the emergence of their true and liberated selves. Together we create The New Earth!
I live in Wiltshire (UK) and work primarily here, but happy to travel.
My formal education and training includes:
Scandinavian Archaeology, University of Bergen, Norway
Middle East & North African Studies, University of Oslo, Norway
Political Science, University of Oslo, Norway
Art & Design Foundation studies, Central St Martins, London
Film school, BA(Hons), London College of Communication, London Institute, London
Holistic Interior Design Diploma, Suzy Chiazzari, Holistic Design Institute
Channelling courses with Janet Treloar, including personal development, around 500 hours
Two different Earth Energy workshops with Janet Treloar
Space Clearing workshop with Janet Treloar
Spiritual Emergency workshop with Janet Treloar
Hypnosis Foundation Certificate, Janet Treloar, Past Life Regression Academy, UK
Photo by the lovely adarose.co.uk
Thank you !